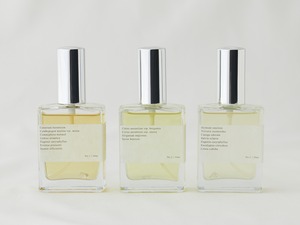 Frequency Oil Spray No.1
Frequency Oil Spray No.1


Frequency Oil No.1のSprayタイプの商品です。
※こちらの商品は、ECサイトでは商品情報のみの掲載しております。
実際に香りを体験していただいて購入いただきたいという考えで、
現在は、ポップアップイベントと以下の店舗でのみ販売させていただいております。
サンプルの香りを体験していただき、お買い求めいただけますと幸いです。


<TOKYO>
PICKY THE SHOP / BAR
東京都渋谷区神宮前5-50-3 B1F

https://picky.tokyo

メゾン ミハラヤスヒロ 表参道ヒルズ
東京都渋谷区神宮前4-12-10 表参道ヒルズ 本館B1F
https://miharayasuhiro.jp/

<FUKUOKA>
Maison (MY) Labo.
福岡県福岡市中央区⾚坂2-3-6 東急ドエルアルス⾚坂 1-B
https://miharayasuhiro.jp/

mojoca in shop
福岡市南区長丘5-24-22 1F
https://www.instagram.com/mojocainshop/

-----------------------------------------------------------------

大切な時に支えてくれる。まるでお守りのような香り。

日常生活の中で
集中力を高めたいとき、
自分の力を引き出したいとき、
不安や緊張を感じているとき、
ゾーンに入りたいとき。
あなた自身の潜在意識に働きかける精油調合。

心を研ぎ澄まし フォーカスする エレミ
グラウディングし大地を踏み締める パルマローザ
時空間を超え 全てを浄化する ミルラ
その他、アトラスシダー/クローブ/オークモス/ジャスミンを調合

100%植物の成分で作られています。

frequency oilは、ケモタイプ精油を利用した天然成分の香料で作られております。ご自身で、専門書又はケモタイプ精油のサイトをご覧になり、調合されている香りが持つ意味を調べていただくことで、より深く香りを楽しんでいただくこともできます。


<使用用途>
カーテン、クッション、シーツ、壁布など、インテリアファブリックにスプレーしてご使用いただければ、香りが家の中に少しづつ浸透していきます。玄関やお車でもご利用いただけます。

<注意事項>
乳幼児の手に届かない場所に保管してください。目に入らないようご注意ください。
極端な高温、または直射日光の当たる場所に保管しないでください。

--------
種類別名称:ルームフレグランス
販売名:フリークエンシーオイル スプレー No.1
標準容量:50ml

成分:エタノール(植物性)・マニラエレミガム不揮発物・パルマローザ油・モツヤクジュ樹脂エキス・アトラスシーダー木油・チョウジつぼみ油・ツノマタゴケエキス・ソケイ花エキス
Made in Japan

※入荷状況により、本ロットのオークモス<ツノマタゴケエキス>では、ケモタイプオイルを使用しておりません。

※ パルマローザ精油の特性に子宮収縮作用があるため、妊娠中の方はご使用を避けてください。この商品は、医薬品ではありません。植物性パフュームです。豊かな香りをお楽しみください。



English is below.
※This item cannot be shipped overseas.

Frequency Oil No.1


It will support you when you are important. A fragrance like a talisman.

In everyday life
When you want to increase your concentration
When you want to bring out your power,
When you feel anxious or nervous,
When you want to enter the zone.

An essential oil mix that works on your own subconscious.

To sharpen your heart, to focus on, Elemi
Crowding and stepping on the ground: Palmarosa
Myrrh that purifies everything beyond time and space
In addition, mix Atlas Cedar / Clove / Oak Moss / Jasmine

frequency oil has a clear component notation. I think that you can enjoy the scent more deeply by visiting the specialized books or chemotype essential oil sites yourself and examining the meaning of the prepared scent.

--------
Type name: Aude Parfum
Brand name: Frequency oil No.1
Standard capacity: 10ml
Precautions: Use with caution if there are any abnormalities on your skin.
Discontinue use if it does not fit your skin, that is, if:
If you continue to use it as it may worsen the symptoms,
We recommend that you consult a dermatologist.
[1] During use, if abnormalities such as redness, swelling, itching, irritation, color loss (white spots, etc.) or darkening appear.
[2] When the above-mentioned abnormalities appear on the used skin by direct sunlight
Keep out of reach of children.
Be careful not to get this in your eyes.
Do not store in extremely high temperatures or in direct sunlight.

Ingredients: Ethanol (vegetable), Manila Elemi gum non-volatile matter, Palmarosa oil, Perilla oil, Atlas cedar bark oil, Clove leaf oil, Tsunomatago moss extract, Jasmine oil
Made in Japan

* Due to the availability, the oak moss <Tsunomatagoke extract> of this lot does not use any chemotype oil.
* Because we use essential oils that have an astringent effect, do not use if you are pregnant. This product is not a medicine. It is a vegetable perfume. Please enjoy rich aroma.
*Tax included.
*Additional shipping charges may apply, See detail..
About shipping fees
The shipping fee for this item varies by the shipping method. Customers can choose the shipping method at time of purchase.
EMS 500

EMS で 500g までの送料

Regional setting

Afghanistan

Bangladesh

Bhutan

Brunei

Cambodia

China

Guam

Hong Kong

India

Indonesia

Laos

Macao

Malaysia

Maldives

Marshall Islands

Micronesia, Federated States Of

Mongolia

Myanmar

Nepal

North Korea

Northern Mariana Islands

Pakistan

Palau

Philippines

Singapore

South Korea

Sri Lanka

Taiwan

Thailand

Timor Leste

Vietnam

Australia

Christmas Island

Cocos (Keeling) Islands

Cook Islands

Fiji

French Polynesia

Kiribati

Nauru

New Caledonia

New Zealand

Niue

Norfolk Island

Papua New Guinea

Pitcairn

Samoa

Solomon Islands

Tonga

Tuvalu

Vanuatu

Wallis and Futuna

American Samoa

Anguilla

Antigua and Barbuda

Aruba

Bahamas

Barbados

Belize

Bonaire, Sint Eustatius and Saba

Canada

Cayman Islands

Costa Rica

Cuba

Dominica

Dominican Republic

El Salvador

Grenada

Guadeloupe

Guatemala

Haiti

Honduras

Jamaica

Martinique

Mexico

Montserrat

Netherlands Antilles

Nicaragua

Panama

Puerto Rico

Saint Barthélemy

Saint Kitts and Nevis

Saint Lucia

Saint Martin

Saint Pierre and Miquelon

Saint Vincent and the Grenadines

Sint Maarten

Trinidad and Tobago

Turks and Caicos Islands

U.S. Virgin Islands

United States

Virgin Islands, British

Bahrain

Cyprus

Iran, Islamic Republic Of

Iraq

Israel

Jordan

Kuwait

Lebanon

Oman

Palestinian Territory, Occupied

Qatar

Saudi Arabia

Syria

Turkey

United Arab Emirates

Yemen

Aland Islands

Albania

Andorra

Armenia

Austria

Azerbaijan

Belarus

Belgium

Bosnia and Herzegovina

Bulgaria

Croatia

Czech Republic

Denmark

Estonia

Faroe Islands

Finland

France

Georgia

Germany

Gibraltar

Greece

Greenland

Guernsey

Holy See (Vatican City State)

Hungary

Iceland

Ireland

Isle of Man

Italy

Jersey

Kazakhstan

Kosovo

Kyrgyzstan

Latvia

Liechtenstein

Lithuania

Luxembourg

Malta

Moldova

Monaco

Montenegro

Netherlands

North Macedonia

Norway

Poland

Portugal

Romania

Russia

San Marino

Serbia

Slovakia

Slovenia

Spain

Svalbard and Jan Mayen

Sweden

Switzerland

Tajikistan

Turkmenistan

Ukraine

United Kingdom

Uzbekistan

Argentina

Bolivia

Brazil

Chile

Colombia

Curaçao

Ecuador

Falkland Islands (Malvinas)

French Guiana

Guyana

Paraguay

Peru

Suriname

Uruguay

Venezuela

Algeria

Angola

Ascension Island

Benin

Botswana

Burkina Faso

Burundi

Cameroon

Canary Islands

Cape Verde

Central African Republic

Ceuta and Melilla

Chad

Comoros

Congo

Congo, The Democratic Republic Of The

Côte d'Ivoire

Djibouti

Egypt

Equatorial Guinea

Eritrea

Eswatini

Ethiopia

Gabon

Gambia

Ghana

Guinea

Guinea Bissau

Kenya

Lesotho

Liberia

Libya

Madagascar

Malawi

Mali

Mauritania

Mauritius

Mayotte

Morocco

Mozambique

Namibia

Niger

Nigeria

Reunion

Rwanda

Sao Tome and Principe

Senegal

Seychelles

Sierra Leone

Somalia

South Africa

South Sudan

Sudan

Tanzania

Togo

Tristan da Cunha

Tunisia

Uganda

Western Sahara

Zambia

Zimbabwe

Bermuda

Bouvet Island

French Southern Territories

Heard Island and McDonald Islands

Indian Ocean Territory, British

Saint Helena

South Georgia and the South Sandwich Islands

Tokelau

United States Minor Outlying Islands

EMS 1000

EMS 500g〜1kg までの送料

Regional setting

Afghanistan

Bangladesh

Bhutan

Brunei

Cambodia

China

Guam

Hong Kong

India

Indonesia

Laos

Macao

Malaysia

Maldives

Marshall Islands

Micronesia, Federated States Of

Mongolia

Myanmar

Nepal

North Korea

Northern Mariana Islands

Pakistan

Palau

Philippines

Singapore

South Korea

Sri Lanka

Taiwan

Thailand

Timor Leste

Vietnam

Australia

Christmas Island

Cocos (Keeling) Islands

Cook Islands

Fiji

French Polynesia

Kiribati

Nauru

New Caledonia

New Zealand

Niue

Norfolk Island

Papua New Guinea

Pitcairn

Samoa

Solomon Islands

Tonga

Tuvalu

Vanuatu

Wallis and Futuna

American Samoa

Anguilla

Antigua and Barbuda

Aruba

Bahamas

Barbados

Belize

Bonaire, Sint Eustatius and Saba

Canada

Cayman Islands

Costa Rica

Cuba

Dominica

Dominican Republic

El Salvador

Grenada

Guadeloupe

Guatemala

Haiti

Honduras

Jamaica

Martinique

Mexico

Montserrat

Netherlands Antilles

Nicaragua

Panama

Puerto Rico

Saint Barthélemy

Saint Kitts and Nevis

Saint Lucia

Saint Martin

Saint Pierre and Miquelon

Saint Vincent and the Grenadines

Sint Maarten

Trinidad and Tobago

Turks and Caicos Islands

U.S. Virgin Islands

United States

Virgin Islands, British

Bahrain

Cyprus

Iran, Islamic Republic Of

Iraq

Israel

Jordan

Kuwait

Lebanon

Oman

Palestinian Territory, Occupied

Qatar

Saudi Arabia

Syria

Turkey

United Arab Emirates

Yemen

Aland Islands

Albania

Andorra

Armenia

Austria

Azerbaijan

Belarus

Belgium

Bosnia and Herzegovina

Bulgaria

Croatia

Czech Republic

Denmark

Estonia

Faroe Islands

Finland

France

Georgia

Germany

Gibraltar

Greece

Greenland

Guernsey

Holy See (Vatican City State)

Hungary

Iceland

Ireland

Isle of Man

Italy

Jersey

Kazakhstan

Kosovo

Kyrgyzstan

Latvia

Liechtenstein

Lithuania

Luxembourg

Malta

Moldova

Monaco

Montenegro

Netherlands

North Macedonia

Norway

Poland

Portugal

Romania

Russia

San Marino

Serbia

Slovakia

Slovenia

Spain

Svalbard and Jan Mayen

Sweden

Switzerland

Tajikistan

Turkmenistan

Ukraine

United Kingdom

Uzbekistan

Argentina

Bolivia

Brazil

Chile

Colombia

Curaçao

Ecuador

Falkland Islands (Malvinas)

French Guiana

Guyana

Paraguay

Peru

Suriname

Uruguay

Venezuela

Algeria

Angola

Ascension Island

Benin

Botswana

Burkina Faso

Burundi

Cameroon

Canary Islands

Cape Verde

Central African Republic

Ceuta and Melilla

Chad

Comoros

Congo

Congo, The Democratic Republic Of The

Côte d'Ivoire

Djibouti

Egypt

Equatorial Guinea

Eritrea

Eswatini

Ethiopia

Gabon

Gambia

Ghana

Guinea

Guinea Bissau

Kenya

Lesotho

Liberia

Libya

Madagascar

Malawi

Mali

Mauritania

Mauritius

Mayotte

Morocco

Mozambique

Namibia

Niger

Nigeria

Reunion

Rwanda

Sao Tome and Principe

Senegal

Seychelles

Sierra Leone

Somalia

South Africa

South Sudan

Sudan

Tanzania

Togo

Tristan da Cunha

Tunisia

Uganda

Western Sahara

Zambia

Zimbabwe

Bermuda

Bouvet Island

French Southern Territories

Heard Island and McDonald Islands

Indian Ocean Territory, British

Saint Helena

South Georgia and the South Sandwich Islands

Tokelau

United States Minor Outlying Islands